The 'BOX' - simply unique!
The ZapfBOX® is unique because it is protected throughout Europe by a patent. As far as we know, we are the only ones who have further developed and offer the system Bag in Box. Consequently, ZapfBOX® is an ideal gift which will guarantee you leaving a long lasting impression!
The ZapfBOX® is practical because: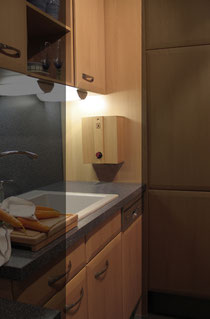 ZapfBOX Beech wood 5 litre

holding 5 and 10 Litres,

it stores more than the usual bottle and therefore saves you  running back and forward to get bottles,

three months guaranteed freshness after opening which allows you to enjoy with no hurry,

very simple to use,

has a clean and attractive design,

is a special wall mounted piece of furniture,

has long durability and remains indefinitely attractive using simple care maintenance,

gives noble drinks an appropriate setting,

and is environmentally friendly (approx. 60 % CO2 carbon footprint) savings compared to glass bottles) 
Fresh remains fresh!
The bag shrinks while tapping and consequently doesn't allow any air contact with the drink itself. Unchilled juices and wine will keep their freshness, even after the first drawing, guaranteed for three months and that without any loss of taste or bouquet!
Down to the very last drop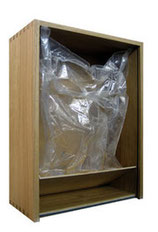 One important question: How much remains in the pipe? We have thought of a solution for this: When replacing the new bag, simply wedge the corners in the rear panel. This way creases or folds will be reduced to a minimum in the bag while emptying and therefore reduces the amount of juice residues. The shelf inlay and wedging the bag corners assure an optimal yield. A positive side benefit: Sediment from cloudy beverages falls beneath the intake flow and remain in the bag. The beverage stays free of residuals in
the glass.
Range of Models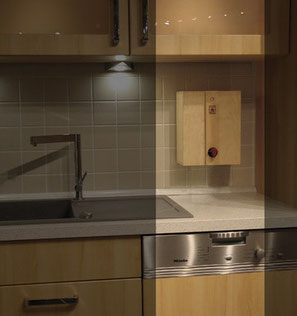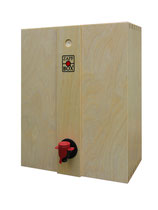 ZapfBOX Birch 5 Litre
This box is available in 5 and 10 litre versions. 3 litre bags are also suitable and can be used.  The box Corners all have interlocking so called box joints, are glued and lightly rounded. It is suitable for wall mounting but can also stand alone on a worktop. Using it is child's play!
The box is supplied with a wall mounting hanging rail, an inlay shelf which optimises the emptying process and an adapter which enables the use of a shorter tap if necessary. The surface is coated with a mat lacquer which makes it easier to clean. It is also free from wood preservatives according to EN 71-3 "Safety for Toys".
Please bear in mind, wood is a natural product which can vary slightly in colour and therefore differ from the picture shown.
 Accessories: Fixing materials, hanging rail, shelf inlay and an adapter for shorter taps 
Model dimensions 5 Litre: 24.3 x 15.0 x 30.3 cm,
Order no.: 1020/  5
ZapfBOX Birch 10 Litre
See above for description.
The 10 litre bag has ample space. The volume is extra large and is especially made for self fermentable liquids to allow space for the "overfilled" bags.
Please bear in mind again, wood is a natural product which can vary slightly in colour and therefore differ from the picture shown.
Accessories: Fixing material, hanging rail and shelf inlay.  
Model dimensions 10 litre:  31.0 x 15.0 x 39.0 cm, Order no.: 1020/ 10
1 Applies to deliveries in the following country: Germany. For delivery times and other invoice information to other countries, see here:
2 VAT included.
General Information about Delivery:
Delivery will be undertaken by DPD.
Relevant Information for Export Deliveries:
Tariffs, taxes and other charges may apply and are not shown in the prices.
!!!!Delivery costs will be shown separately!!!!
Please ask for special deliveriecosts by mail info@zapfbox.de
Countries where we deliver:
Austria, Denmark, Germany, Netherlands,Swiss, Spain, Sweden,
UK